I had saved this post for Sunday, as it is a perfect Sunday album...but then we had a power cut. Typical! Anyway, it's a pretty good Monday album too...or Tuesday, or Wednesday etc. etc.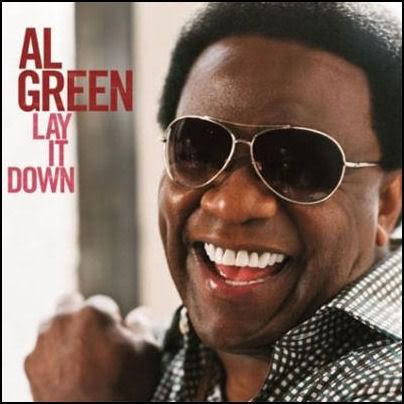 Released in the UK on May 26th (May 27th in the US), Lay It Down finds Al Green on form, back with his classic 1970s Southern soul sound.
Picture the scene...it is Sunday morning, you have just squeezed yourself some fresh OJ, you are at the breakfast table with the newspaper spread out before you, and you want some music on whilst you read, to ease you into the day. This is that record.
There is no major stand-out track here, but this is no bad thing. The journey is smooooth from start to finish, all of the songs beautifully handled and all worthy of a place amongst the rest.
Production is courtesy of Ahmir '?uestlove' Thompson, former drummer with The Roots and current producer du jour. And he's done a very admirable job, with a sympathetic treatment of Green's signature sound and no jarring attempts to modernise.
Despite guest vocals from Anthony Hamilton, Corinne Bailey Rae and John Legend, as well as some help from the Dap Kings' horn section, the Reverend remains the star here, with guest appearances complementing his voice, rather than overshadowing or distracting from it. Fortunately, the use of these newer names does not come across as an attempt to 'get down with the kids' and this really is as close to a classic Al Green album as I can imagine him making nowadays. Any of these tracks could sit merrily alongside his older work and not feel out of place/not up to scratch.
People are saying that the album is dead, but if this release is anything to go by, they are wrong, so wrong. It works brilliantly as one complete piece of work, is pure soul from start to finish and is bloody lovely! Get your groove on!

Just For Me - Al Green

What More Do You Want From Me? - Al Green
(mp3s removed at copyright holder's request)

Buy Lay It Down here.