Here's a post that I didn't get around to over at Star Maker Machine...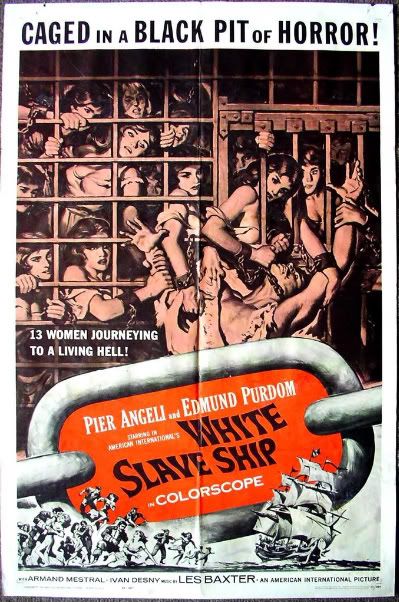 "In America you get food to eat
Won't have to run through the jungle
And scuff up your feet
You just sing about Jesus and drink wine all day
It's great to be an American.

Ain't no lion or tiger - ain't no mamba snake
Just the sweet watermelon and the buckwheat cake.
Everybody is as happy as a man can be
Climb aboard, little wog - sail away with me."
The song Sail Away is Randy Newman's masterwork. A sweet-sounding song that is relatively simple, musically, for a Newman song and is in a major key, it is deceptive until you listen more intently. It is only then that the true horror of the lyrics hits home - this is a recruitment pitch for the slave trade.
Newman is known for writing his lyrics from the perspective of a character far distanced from his own life and experiences and, in this case, he 'plays' an American slave trader trying to seduce Africans aboard a ship to the New World, portraying America as a land of plenty and, ironically, freedom.
And the irony is precisely why this song works. Newman is the king of satire and is one of the few people who could have got the balance spot on in writing this song - whilst it is sardonic, it is at once both beautiful and shocking. A perfect blend, if you like, of sympathy and irony, beauty and monstrosity. The picture above is intended in this spirit.
There have been a great many covers of this song, including by black performers such as Ray Charles, but none has bettered Newman's original, which comes from his 1972 album of the same name.
My favourite line is "the sweet watermelon and the buckwheat cake" - if you listen, there's just something about the way the words fit the rhythm and music; I can't quite explain it, but it just sounds so perfect and I simply can't resist it. I have the same feelings about the line "don't I know you from the cinematographer's party" from Paul Simon's I Know What I Know.
Here are some of the better cover versions:
Sail Away - Kirsty MacColl

Sail Away - Harry Nilsson

Sail Away - Joe Cocker

Sail Away - Bobby Darin

Sail Away - Linda Ronstadt
Listening to Sail Away always reminds me of two other songs which, whilst not about slavery, are about immigration and being an outsider in a new country.
The first is Woody Guthrie's earnest, but excellent, Deportee:
"600 miles to the Mexico border
They chase us like outlaws, like rustlers and thieves.
We died in your hills, we died on your deserts
We died in your valleys, we died on your plains
We died in your trees and we died in your bushes
Both sides of the river, we've died just the same.

Goodbye to my Juan, goodbye Rosalita
Adios mes amigos, Jesus y Maria
You won't have a name when you ride the big airplane
And all they will call you will be deportee."

Deportee (Plane Wreck at Los Gatos) - Arlo Guthrie

Deportee - Cisco Houston
The second is Ry Cooder's Across the Borderline, which I actually heard first by Willie Nelson on his album of that name:
"When you reach the broken promised land
And every dream slips through your hands
Then you'll know that it's too late to change your mind
Cause you've paid the price to come so far
Just to wind up where you are
And you're still just across the borderline."

Across the Borderline - Ry Cooder

Across the Borderline - Willie Nelson
Click on the links below to look at my 'boat posts' over at Star Maker Machine:
The Coal Boat Song - Stompin' Tom Connors
I Courted A Sailor / The Sleepless Sailor - Kate Rusby
Luxury Liner - Gram Parsons (and also Emmylou Harris)
Lukey - Great Big Sea/The Chieftains
Ferry edition - Neil Young, Tanya Tucker, and Gerry and The Pacemakers